Note
This article is for use by EdgeEX Beta users.
The Course Hub allows educators to manage content and course options for a course.
Note
In EdgeEX, educators cannot assign a course to their linked student account to preview content. Instead, to view Course Structure and preview activities, navigate to the Content tab in the Section Hub or Course Hub.
Accessing the Course Hub
On the Courses tab, do one of the following:


| If | Then |
| --- | --- |
| You are an administrator | Click Imagine Edgenuity Catalog or My District Catalog. |
| You are a teacher | Click My School Catalog. |

Filter or sort to locate the applicable course.

Click the View button.

The Course Hub displays.
Features of the Course Hub
The following are the features of the Course Hub: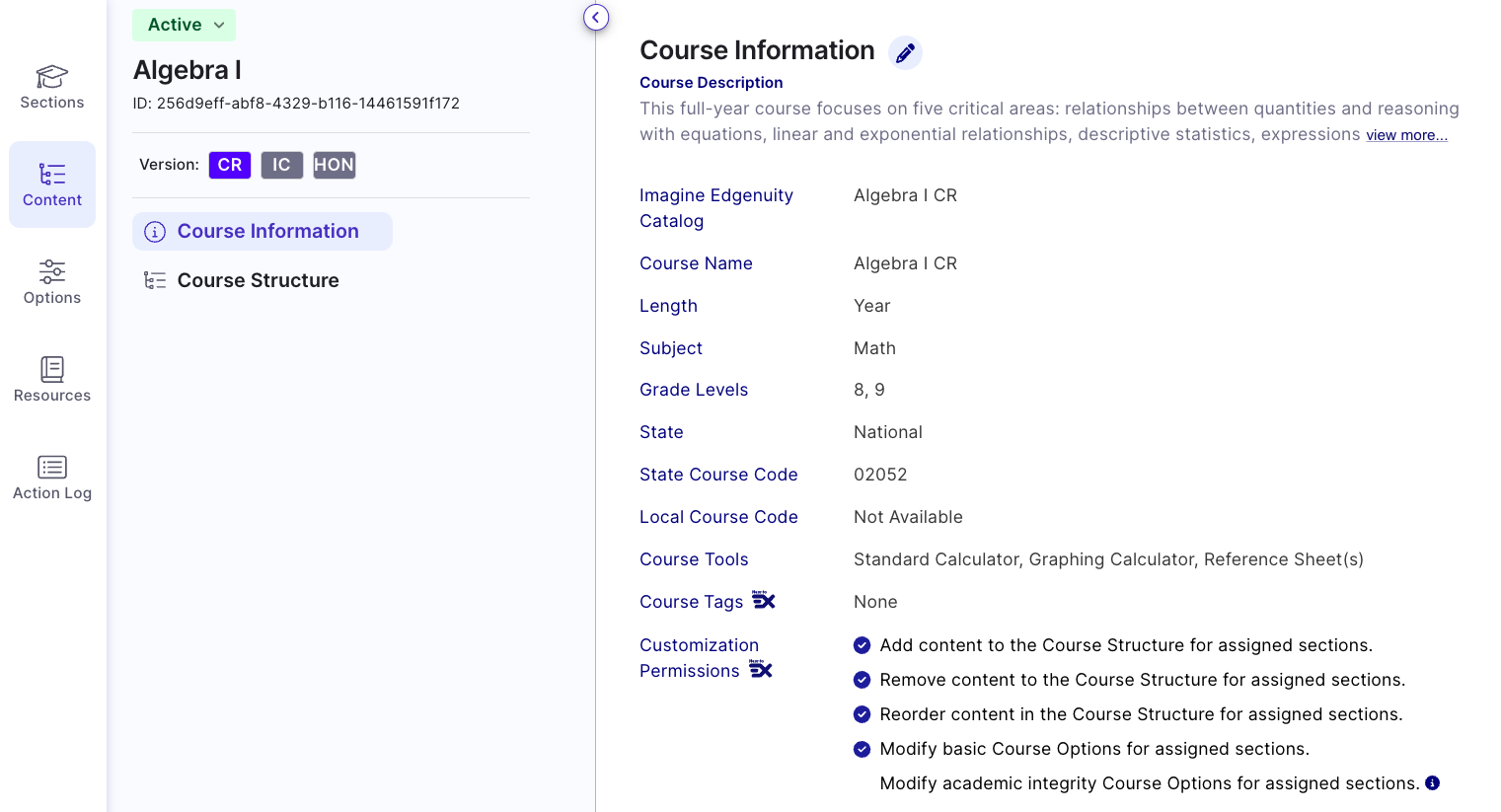 Tab
Description
Sections

In the District Catalog and School Catalog, you can view and manage sections of the course assigned to teachers at your schools.

Assign teachers to sections.
Enroll students in sections.

Content

View course information, including name, length, subject, grade levels, state, state course code, local course code, tools, tags, and customization permissions.
View course structure, including semester, unit, and lessons.
Preview content the way a student sees it.
Customize course content.

Options

View and modify course options. Changes made to course options can be pushed to one, some, or all sections of the course.

Resources

View and download dynamic course descriptions, syllabi, and scope and sequence.
View and download fillable guided notes for semester, unit, or lesson.

Action Log

Coming soon: View a history of course-related actions educators have taken, such as sections created, teachers assigned, and course customizations.