Frequently Asked Questions
Are there teacher version of Guided Notes available to check my student's work?
Yes, you can follow the directions
here
.
---
Use this page to access the course structure of the lessons which includes information on the lesson titles, activities, and closed captioning (transcripts).
Need to know how to access this page? View the steps here.
Accessing the Course Structure Page
Click More, then click View Course Structure. The course structure displays.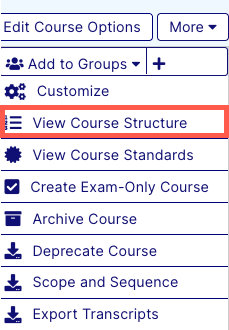 Note
Depending on your permissions, it may be a stand-alone button on the homepage.


Features of Course Structure Page