We strive to inspire authenticity and digital trust by creating secure environments to confidently share ideas and learn. With that comes the responsibility to ensure complete AI content detection accuracy, particularly around false accusations.
To address and test for accuracy, we asked ChatGPT to generate ideas for 1,000 random topics and questions, which we then fed back to ChatGPT as prompts to generate longer-form content.
We also collected 1,000 randomized human-written content produced in 2016 in a pre-ChatGPT world. Then, we put our AI Content Detector and two leading competitors to the test by submitting the AI-generated and human-written content to gauge overall accuracy and the rate of false positives and false negatives.
Here is what we found:
Accuracy of AI Content Detection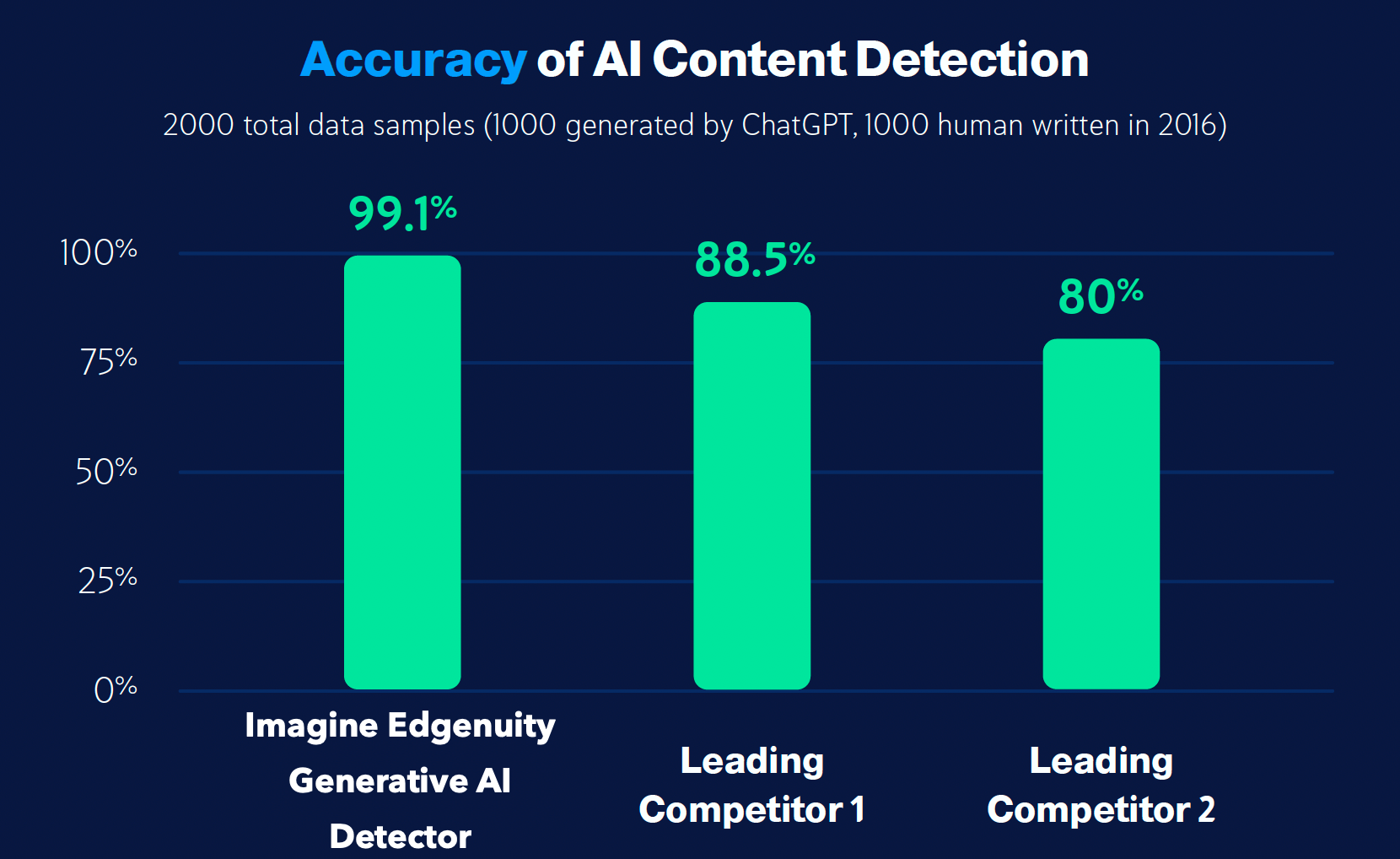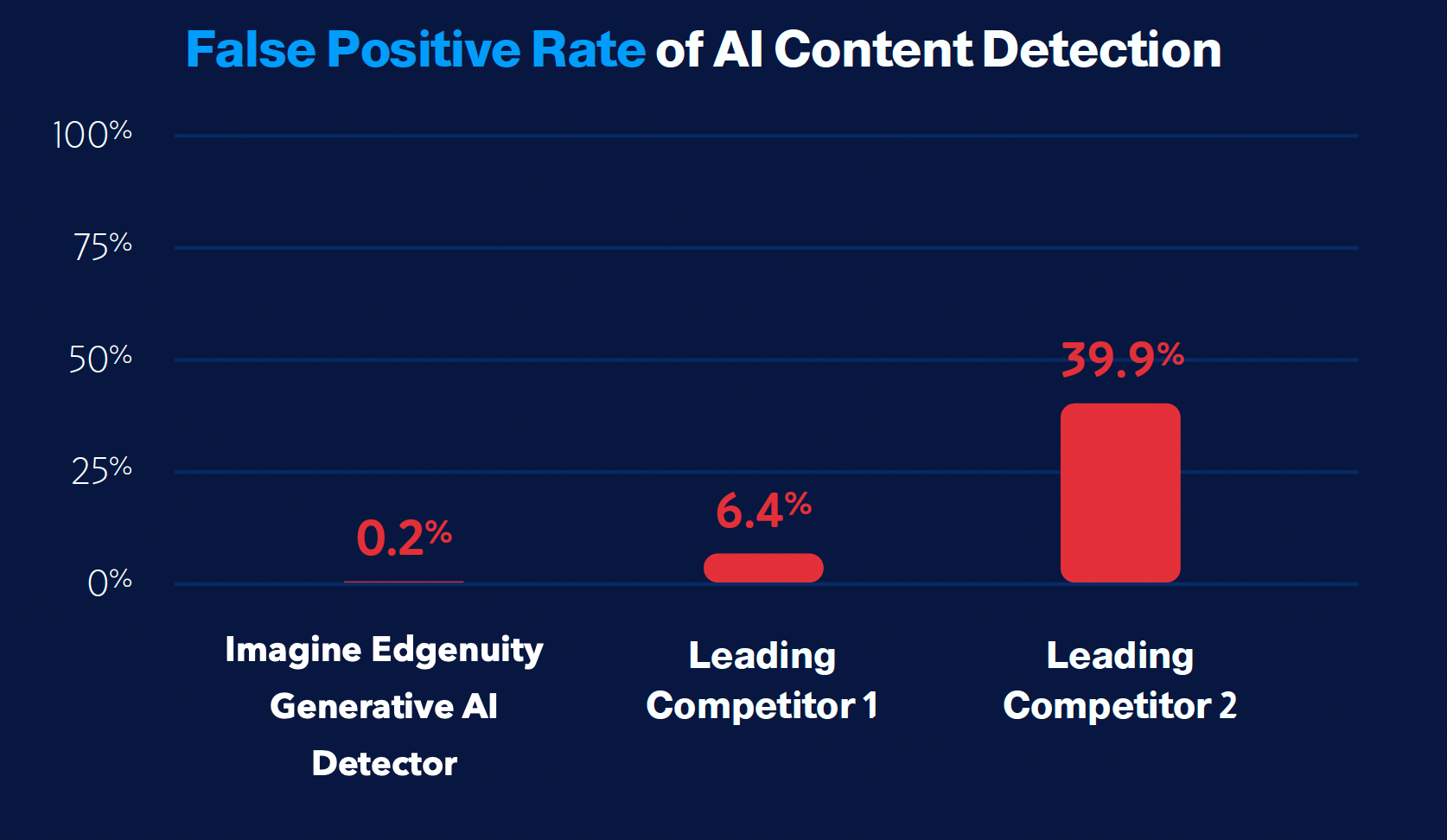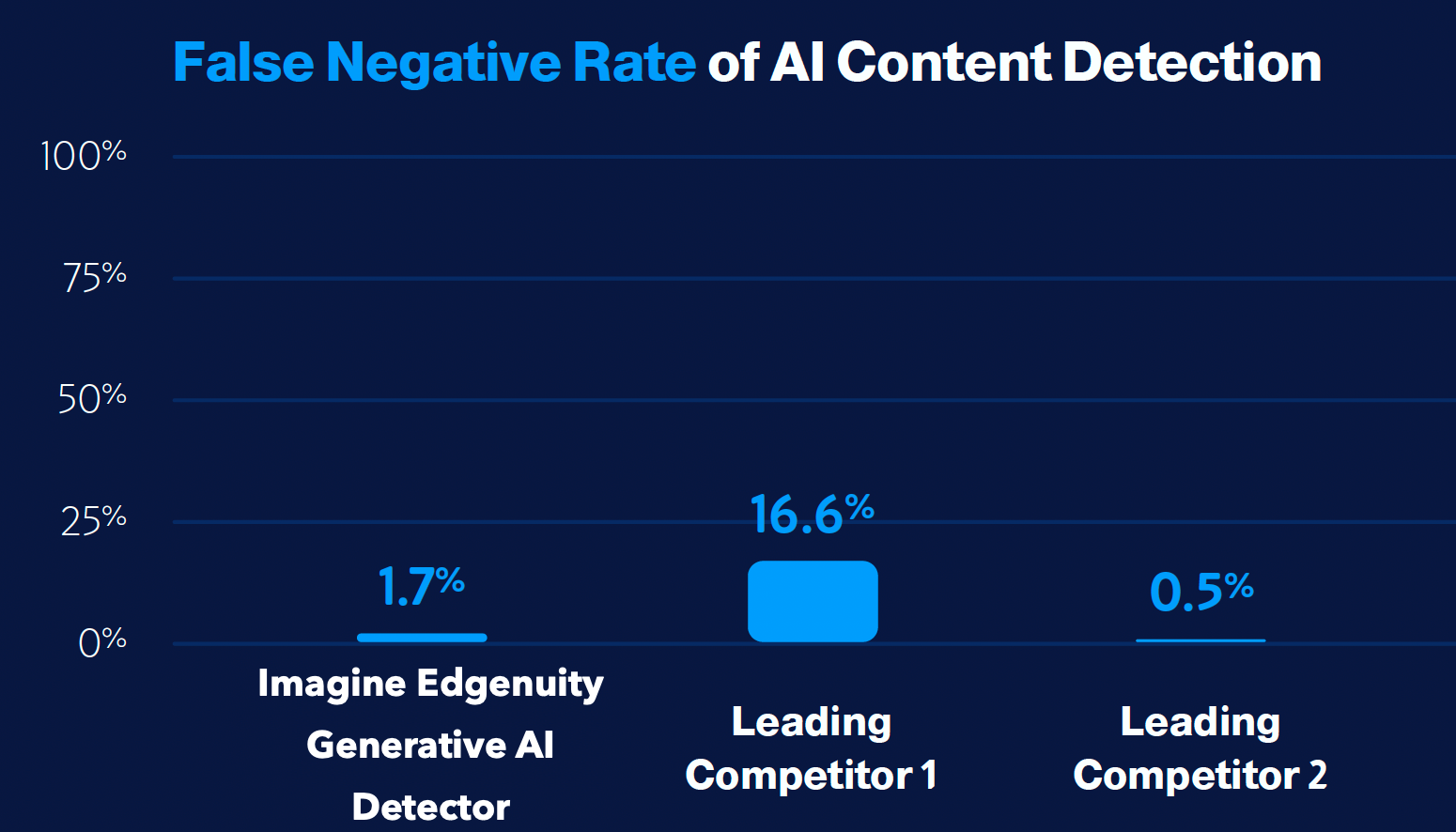 Comparing our Generative AI Detector to Turnitin
Our Generative AI Detector is the market's most comprehensive and accurate enterprise AI content detection solution available.
Note
All information and data points in the tables below were obtained from publicly available published materials.
Imagine Edgenuity Generative AI Detector
Turnitin
Overall Accuracy

99.12%

Credible data at scale and machine learning allow us to continually improve our understanding of complex text patterns. Plus, with our Chrome Extension, we continue to learn and increase the accuracy of our AI engine daily.

98%

Improves AI model accuracy utilizing controlled sample data from an internal database.

False Positive Rate

0.035%

The detection and the algorithms that power the Generative AI Detector are designed for detecting human-generated text, versus AI-generated text, the latter of which gives less accurate detection and increases the likelihood of false positives.

Nevertheless, no matter how low a false positive score is, we encourage discussion around results. Claiming something is AI when it's human can have detrimental consequences for students and teachers. It can tarnish professional academic careers, compromise trust between a student and their teacher, and ruin a hard-earned academic record for students.

1–2%

The Turnitin AI model looks at sentences in groups, making a longer document with a mix of human-created writing and AI-generated text, therefore making it difficult to determine where the AI writing begins and original writing ends, increasing the chances for false positives.

AI Training Method
Our AI engine has been processing and learning how humans write since 2015, collecting and analyzing trillions of pages of publicly available human-written content and user-sourced content from thousands of universities and enterprises worldwide to train the models to understand the patterns of human-created text as well as recognize the signals created by other AI.
The Turnitin model is trained on sample data that includes both AI-generated and authentic academic writing.
Supported Models

ChatGPT (also called Chatbot)
GPT-4
GPT-3
GPT-2
T5
BERT
Jasper

Sentence Level Detection
Our Generative AI Detector looks at prose sentence-by-sentence within multiple forms of content, not just long-form prose. Text highlighted in various shades indicates the probability of AI content detected; AI might have entirely written some sentences, while others might be interspersed with human-created content.
The Turnitin model only looks for prose sentences contained in long-form writing, such as an essay, a dissertation, or an article, etc. but does not reliably detect AI-generated text in the form of non-prose, such as poetry, scripts, nor does it detect short-form or unconventional writing such as bullet points, tables, or annotated bibliographies.
Edited AI Text Detection

Yes.

The Generative AI Detector can determine whether typos have been intentionally added or if any other edits have been made to the AI-generated content in an attempt to throw off the Generative AI Detector.

No.

The Turnitin model cannot accurately detect if edits have been made to AI text.